Stay Competitive With Job Outsourcing 
In today's competitive business world, it is challenging for organizations to be more efficient and profitable without outsourcing. Outsourcing allows companies to contract out some of their business functions and helps them cut costs, increase profit and save time. Understanding how outsourcing works can greatly improve your job prospects and earning potential. In this post, we'll go over what job outsourcing is and what benefits it can bring to your company. 
What is job outsourcing?
Considering how fast companies move, it is hardly possible that a company will be able to handle everything in-house. The complex nature of many processes and the need to become more efficient push many firms to seek help for specific tasks. 
Outsourcing is the process by which companies subcontract out parts of their value chain to other contractors or companies specialized in those activities. Here, a company hires a third-party organization to perform multiple operations and services for them. A company may also outsource its tasks because of its inability to hire full-time workers. 
Some of the common jobs that companies outsource may include:
Data analysis

Content writing

Human resource management

IT services

Research

Engineering

App development

Diagnostic services

Legal documentation

Customer care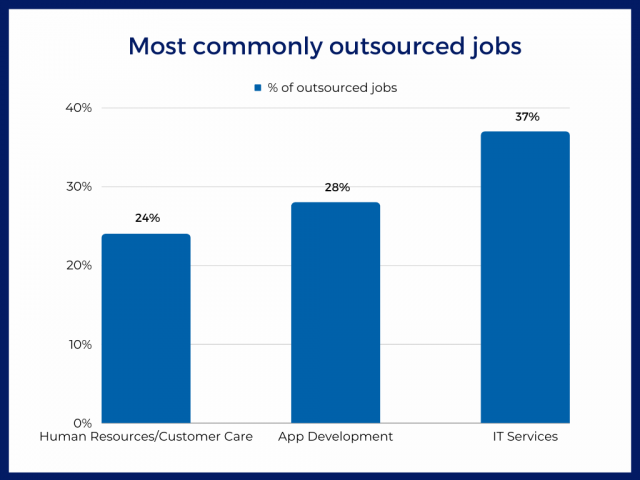 Outsourcing is essential when businesses grow quickly or require skills, knowledge and expertise that they do not have in-house. Most of the time, outsourcing helps companies be more productive and reduces unnecessary costs. Reputed outsourcing companies offer higher expertise in specific domains which might be lacking in internal staff. For most businesses, hiring a good outsourcing company should be a priority. 
Job Outsourcing Interesting Data 
Here are some interesting facts about job outsourcing, according to Capital Counselor: 
Roughly 300,000 U.S. jobs are outsourced each year.

The global outsourcing market is valued at $92.5 billion, with the U.S. market bringing in $62 billion of the total international revenue.

Information technology is the leading industry and business department for outsourcing — about 37% of IT tasks are outsourced.

Globally, 78% of businesses that outsource work across the globe have a positive attitude toward their outsourcing partners.

The outsourcing market is expected to grow at a compound annual growth rate of 4% between 2021 and 2025. 
What are the benefits of job outsourcing? 
According to a global report from KPMG, 42% of international outsourcing is tied to North America and South America. For comparison, the report estimates that 35% of outsourcing comes from Europe, the Middle East, and Africa, and 23% of outsourcing comes from Asia and Oceania. 
Approximately three-quarters of outsourcing operations are successful. More specifically, 78% of businesses that outsource report a positive attitude toward their outsourcing partners, which indicates success. 
Benefits of outsourcing include: 
Increased profits and reduced losses.

A company could outsource some of the crucial tasks associated with its expansion, to smaller companies in different parts of the world. This helps them effectively relocate their business while reducing operational costs.

Increased efficiency.

For example, outsourcing more back-office functions like accounting, finance and distribution can help companies focus on core areas and other important activities, thus increasing productivity. 

Flexibility in staffing.

The outsourcing of tasks allows businesses to recruit additional resources when they need them to fulfill quarterly or yearly demands.

Business continuity and risk management.

When you outsource business activities, you may provide your firm with a sense of continuity while also lowering the risk of reduced quality of operation. 

Internal staff enhancement.

Important work may need expertise that your own team lacks. On-site outsourcing can help you find employees with the specialized capabilities you require. You may have your internal employees work with them to learn new skills.

Save on infrastructure and technology.

Outsourcing eliminates the need for investment in infrastructure as the outsourcing partner takes responsibility for the business processes. 
With the increasing competition among professionals in organizations, the outsourcing of selection processes is a critical factor in order to have the best talent in your company.
At Catenon, we are experts in the search and selection of the most suitable candidate for the position you are looking to fill and we do it at a national and international level working as a single office since we work from every part of the world to cover a position anywhere in the world.
If you are interested in learning about our services for finding the best talent for your company, consult our experts and fill out the form below: 


Cinthya Soto