"Hiring talent remains the number one concern of CEOs in the most recent Conference Board Annual Survey; it's also the top concern of the entire executive suite," according to the Harvard Business Review. The 'war for talent' refers to an increasingly competitive landscape for the recruitment and retention of talented employees. In 1997, the phrase was coined by Steven Hankin, of McKinsey & Company. What's more, according to Deloitte's Global Human Capital Trends survey, 61% of respondents agreed that finding qualified, experienced professionals is a huge challenge facing them in the recruitment process. Additionally, generational priorities are changing; HR departments need to up their game in order to keep up with the competition. The increase in the intensity of the War for Talent is accentuated by 3 main factors:
Competition for talent is global
An increasingly decentralised workforce 
A new set of priorities for potential employees
1. Competition for talent is global 
Talent does not recognise borders and is always in short supply locally, companies need to recruit globally and tap into a greater pool of talented individuals living in other areas of the world. A star data engineer in Kenya is able to do as good a job as a data engineer in the U.S, and often for less. Additionally, in the past, a talented graphic designer might have been poached by a rival company across town; today, their services might be appropriated by a competitor on another continent. Organisations, therefore, are stepping into a global war for new talent, as well as having to shield their current expertise from competitors worldwide. Platforms like LinkedIn allow any company to recruit talent from anywhere in the world. Catenon alike aren't waiting about for their talent to be taken but instead have services in place to recruit internationally without borders impeding their reach. Catenon operates as a single, worldwide office, searching, attracting, assessing and introducing global talent to our clients, no matter where they are in the world.
Competitive salaries – If an employee working as a data analyst in the UK is earning £36k, how likely are they to apply for a job internationally that offers a salary anything less than their current job? The answer is highly unlikely; employees need to see real benefits from employers to even consider taking a job internationally and a pay rise is a more than likely requirement, if they are considering leaving their current position.
Retaining the top talent – Some companies often tend to neglect the importance of talent retention, they can get so caught up in recruiting internationally, that their current employees feel undervalued and start to look elsewhere for better opportunities or are poached by someone who sees their value. In fact, according to Peter Cappelli, director of the Center for Human Resources at Wharton, writing in the Harvard Business Review: "Census data shows, for example, that the majority of people who took a new job last year weren't searching for one: somebody came and got them."
Why do our employees stay at our company? Are our employees happy? What more can we be doing for our employees, be it well-being and personal time off, be it flexibility or be it upskilling, on-going training and professional development plans? These are the types of questions that companies should be asking themselves. They need to create a culture of belonging and proactively engage with their employees to better understand what is really important to them and their careers. Companies must take steps to ensure that their key people are engaged and do not leave in search of better opportunities. According to the Citrix Talent Accelerator, a survey of 2,000 knowledge workers and 500 HR Directors in large, 88 percent of those workers surveyed said that when searching for a new position, they would look for one that offers complete flexibility in their hours and location. Moreover, management needs to ensure their people have the tools and motivation to perform as required, developing the leaders of tomorrow to ensure sustainable success. The importance of effective change management continues, as companies revisit business models and strategies in the wake of the downturn. It's an ongoing process, and winning firms will continually review and cultivate the quality and skills of their workforce, enabling them to adapt as the marketplace changes.
2. An increasingly decentralised workforce
A decentralised work force is one in which employees who collaborate in a functional area or on a work team don't work together in the same office. With the acceleration in this type of structure, particularly during the global pandemic, it seems as though post Covid-19 the shift towards remote work is here to stay, given that research has shown that in many cases, remote work can lead to healthier, more productive employees as well as a positive impact on well-being, since 7 in 10 executives responded this in the 2021 Deloitte Global Human Capital Trends survey. In fact, according to Bill Gates, Chairman and Founder of Microsoft, 50% of employees going forward will work from home – and 30% of office space will diminish. 
Although another important question is remote work or relocate? Are employees willing to relocate geographically or would they prefer to work from home for an international company? In order for companies to convince world-class talent to geographically relocate, they need to create strong talent mobility offerings and programs that create exceptional experiences for mobile employees. According to a survey, more than half of respondents (55 percent) would prefer their employer handle all the logistics for them and 92 percent say they'd need a financial incentive like a pay raise or promotion, a housing allowance and/or a reimbursement for moving expenses to accept the relocation. On the other hand, it may not be a case of relocation but simply allowing the new recruit to work remotely from another country. This has been a revolutionary turning point as it not only diversifies talent but also it widens the talent 'pool', which means there is more selection and thus the best of the best professionals can be recruited. Although this reduces certain relocation costs and potentially frees up office space, it will still require many shifts, such as investment in digital infrastructure. Companies that leverage technology such as digital workspaces to enable remote work will not only attract hard-to-find talent, but increase employee engagement and boost their productivity. In general its is essential for companies to prepare for both scenarios or work out which will reap the most benefits for both the company and the employee. Here are the top factors for employers to make remote work sustainable:
3. A new set of priorities for potential employees
Ultimately, employers need to provide a job position which employees are desperate to work for. A job description that is unmatched and once read, the potential candidate immediately jumps at the prospect of applying for it. Companies should describe their company culture, as although the ideal role could be awaiting them, if the company culture does not value what the potential candidate does, the employer may miss out on the next best candidate.
According to IBM, when asked what employers should offer to engage employees, workers placed work-life balance (51%) and career advancement opportunities (43%) at the top of their list of priorities, with compensation and benefits (41%) and employer ethics and values (41%) following close behind. And more than a third of employees named continuous learning opportunities (36%) and organisational stability (34%) as key engagement factors.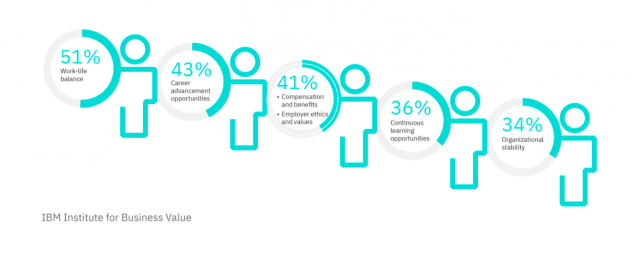 Here are 8 certain priorities that employees value which employers should take into account in attempt to gain and acquire the best talent and win the war for talent:
Outcomes over Output – Work is no longer about getting the most out of people, but the best. Modern employees want to be measured on the value they deliver, not the volume – quality over quantity.
Continuous learning & Upskilling – workers will need to hone their current skills or acquire new ones at least once a year in order to maintain competitive advantage in a global job market. Companies must foster a culture of perpetual learning that rewards continual skills growth and the talent of their people.
Diversity – Diversity isn't just a boardroom agenda item, employees and HR directors alike believe it will be a defining feature of the future workforce.
Purpose – Work must have meaning, and potential employees want organisations with a mission and purpose.
Coaches, not bosses – Millennials and Generation Z need team leaders who can coach them, who value them as individuals and employees, and who help them improve upon their strengths.
Ongoing conversations – Constant communication and feedback are preferred to annual reviews, which are too infrequent and plagued by recency bias to be helpful.
"It's not my job – it's my life" – As work culture transcends the "nine to five," employees demand a job that values their strengths and contributions and allows them the space to do what they love every day.
Don't take people for granted – The pandemic has reminded us how fragile life is. Everyone has been through a lot in the past year. Employers must demonstrate empathy and care for their employees holistically—by considering their physical, mental, and financial well-being.
Winning the War for International Talent
As the war for talent breaks out, it will be important for organisations to focus on cultivating the talent they already have, as well as recruiting externally. Talent is universal, but opportunity is not. According to Jonathan Siddharth, the CEO of Turing, "companies and startups that tap into the global talent pool will win, as they will be able to double their runway and hire elite engineers they otherwise couldn't afford. This is why we believe every company's second engineering office should be remote."  What's more, Suhail Doshi, the founder of Mixpanel, believes that "the inevitable future of work will be large remote international teams. Once a few big companies prove the success of remote teams, startups will follow suit and create a new, global talent war like we've never seen before." Thus, in order to beat the competition and ultimately win the War for Talent, companies will need to encourage borderless work, a decentralised workforce and they must listen to employee priorities; the advantages of hiring international talent are extensive and the earlier you start recruiting globally the more productive and profitable your company will become.
Isabella Rodrigues-Mendes