Over the past years, the focus on the job market has shifted almost entirely, going from the companies to the candidate. This is due to the state of the market, in which demand has far exceeded supply. The war for talent is, therefore, more intense today than ever before. However, hiring talent is not as simple as it sounds. What is important is not only to hire quickly but also correctly. In this ultra-competitive field, innovative hiring tactics are the best possible ally, and here are 6 companies who were able to create innovative solutions to recruit the best talent possible for their organisation. 
Heineken 
The name Heineken is renowned worldwide, whether you consume their products or not. One would assume a company with such a reputation has no need to innovate their recruitment marketing, as they must get mountains of quality applications. However, Heineken is also known for its innovative and unusual recruitment methods. 
Heineken's recruitment campaigns are always very original, and smart, which is what makes them so efficient and innovative; one of their campaigns even scoring a bronze Lion at Canne. The 2013 campaign, "The Candidate", searched to recruit an intern in its event and sponsorship team following the EUFA trophy around the world. With over 1,700 applications and identical interviews with the same questions and answers, how do you choose the right candidate? Heineken opted to create a unique interview to assess applicants personalities, resourcefulness, attitude, confidence and their ability to deal with unexpected and unconventional circumstances. 
The challenges of these interviews were extremely unusual. Candidates were guided in and out of the building by someone holding their hand like a child, they had to provide medical assistance and then asked to help rescue an employee jump off the roof. 
The process was filmed, published and quickly became extremely popular. After this campaign, Heineken saw a 279% increase in visits to their career website, as well as a 317% rise in submitted CV's.
McDonald's
Another big brand name who was able to innovate their recruitment is McDonald's. With the goal of hiring 250 000 new employees, the giant turned to the tremendous popular social media app Snapchat, to develop 'Snaplications'. What was particularly smart and innovative about this, was that the targeted candidates lied between the ages 16-24, which represents more than 50% of Snapchat's users, therefore making the platform ideal. 
Through a branded lens filter transforming the user into a McDonald's employee, in uniform, candidates could submit 10 seconds videos to introduce themselves, and a sentence on why they would be a good employee. The campaign was hugely successful, and the innovative nature of the campaign.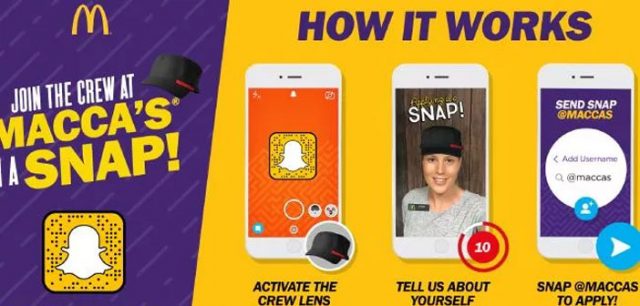 KFC
Truly innovating recruitment thinks outside of the box and makes use of creativity in such a way that no one can expect what the outcome of a project is. Rearranging elements of life on the daily to promote an image can be tricky. All technological advances are good to use, even if their original purpose is not necessarily made for you. An example of this is Virtual Reality, used in recruitment. 
What once looked like a futuristic tool, technical and unusual is becoming more widely used every day, in particular in recruitment. The renowned fast-food chain KFC has made use of this tool in its latest recruitment campaign. They introduced VR as a training tool for their company, through a game with Oculus Rift headsets. The game, a virtuality escape room, does not let players/employees leave the room until they make the perfect chicken. A fun twist on learning to fry chicken, don't you think? 
Apple 
Imagine being one of the most, if not the most famous tech company. Brand image and reputation play incredibly important roles, and therefore want to make sure their employees are of a certain standard. So how do you creatively make sure you get the best candidate possible for an engineering post? Hide the job advert within the website! 
Though this campaign did not work as it attracted a newspaper instead of their ideal hire, it still got the company a lot of attention, and positively reinforced their brand image of a uniquely innovative company. 
Snapchat
In an effort to recruit employees for their San Francisco headquarters, the social media app Snapchat used their own concept to innovate in their recruitment techniques. Hiring the best tech talent is very challenging, and even more so in a place like San Francisco, home to most high-tech corporations and startups. So it isn't surprising that companies try to steal each other's talents by using the most innovative methods possible. 
Using location-specific filters, for the area around Uber's headquarters, Snapchat created a filter that reads 'is this place driving you mad?' with Snapchat's ghost logo looking frustrated and unsatisfied, driving a taxi. This type of direct approach certainly attracts attention, and attention is the first step of recruiting a candidate. 
Buffer
Buffer has implemented as part of their recruitment process a paid 45-day boot camp or probationary period as part of the onboarding. This way, prospective new employees are invited to participate in this training and decide if they are a good match for this company. 
Every company has its culture, and every culture has its particularities. It is important to make the right hire in order to remain competitive. Bootcamp is an effective method for both sides: employers get to see if the candidate will be a good fit for the culture, and prospective employees see if they enjoy it.